Megan Crawford
Member Spotlight - September 2017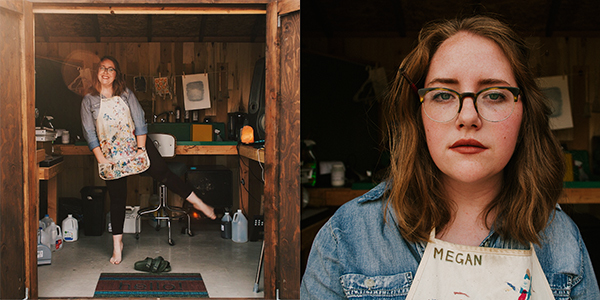 Where did you grow up, and where do you live now?
I grew up in Lake Forest, California—a suburban city toward the south end of Orange County. I first visited Montana in the summer of 2012. For the entire three and a half hour flight back home I couldn't help feeling like I was leaving a place where I was supposed to stay. As soon as I was home I looked up schools in Montana, applied to Montana State University, and accepted my enrollment without any knowledge of the photography program or Bozeman itself. I had no idea what I had gotten myself into—I didn't know about alternative processes prior to going to MSU. That university and the faculty there made me the artist I am today. I currently live in Columbia Falls, a small lumber town 17 miles from Glacier National Park.
Why did you join TPS, and how long have you been involved?
TPS was recommended to me by my professor, Christina Z. Anderson. It was one of those things on my to-do list that I always meant to finish but never got there. I finally joined TPS in March of 2017, and it's been wonderful ever since. Two pieces from my American Mythos series were selected for this year's Member's Only Show (Loops and Swift are Surer than Lead and Custer Battle, below).


Why did you become a photographer, and where do you find inspiration or motivation for your work?
My mother studied photojournalism in college. I remember eagerly waiting for white envelopes of prints as the distinct hot plastic scent of a film processor filled the air around me. I photographed everything compulsively as a kid—and I mean everything. No one told me to stop, so I didn't. That was invaluable.

I have a background in history, so my current work focuses on history and landscape: how they interact with modern and historical societies, how they interact with each other, and what they can represent in a contemporary photographic context.

How would you describe your photography and/or working process?
I work with alternative processes, primarily gum bichromate and salted paper. I got started in alt in 2015 and I haven't looked back since. Working in alt took me back to that fleeting, magical feeling of the first time I made a gelatin silver print.

My work is concept based—I absolutely love doing research for a project. As far as a physical work process goes, I describe it as Girl Scout preparedness with fly by the seat of your pants execution. My work flow has an organized foundation, but I don't fence myself in. Part of the beauty of alt process is that so much of it is new territory, even though it's been around for centuries. There's a wide range of variables to experiment with, so why would I limit myself to what I know?
Please tell us about your most recent photographic work. My newest project, American Mythos, explores tropes in Western landscape paintings, primarily those of C.M. Russell's work. The Western landscape commonly depicts the fable of the West, and I've set out to show my interpretation of a modern contrary.

I also recently tackled making a print every day for the month of July. It wasn't a conceptual project, which was simultaneously daunting and liberating. I gave myself the month to experiment with whatever I wanted, mistakes and all. It's dangerously easy to fall into the trap of wanting perfect prints all the time. It wasn't a month of 31 wonderful prints, but I learned from it. Mistakes will always be welcome friends of mine.