Blog Author David Gremp
Richard's last blog on reading Ansel got me thinking about books—photo books in particular. Whether they're filled with images or words, or both, I have been infatuated with and addicted to photo books for over 40 years. I wouldn't call myself a serious collector, but I do have a "collection" of photo books that I love and of which I'm proud. I've always felt that possessing them and sharing them was significantly important to my development and continued passion for photography. And, it makes me wonder if they are still an important part of photographers' lives today.
Let me start from the beginning. As a self-taught photographer, I relied almost exclusively on photo books to get involved with not only the technical process, but also as a source of inspiration. This was in the early 70s and I was living in the rural Midwest, far from any galleries or museums. I was fortunate in that the Time-Life series of photo books had just been published, and even more fortunate in having a friend who worked at Time-Life in Chicago who was happy to purchase those books for me with her substantial employee discount. Those books, along with Beaumont Newhall's The History of Photography, became my photographic bibles. And, as time went on, I continued to rely on photo books for ideas and discoveries as I began purchasing monographs of my heroes: Walker Evans, Robert Frank, Bruce Davidson, Diane Arbus and Lee Friedlander, to name just a few.
I believed then, as I believe now, that "the book" is the perfect medium for sharing photographic images. In addition to being an affordable alternative to purchasing original prints, books provide a totally acceptable reproduction in quality and, in many cases, scale of the original work. They also allow the viewer the opportunity to explore a photographer's vision through an accumulation of images, sequencing and pairings in the comfort of their own home. And once I began teaching photography, I was more than happy to share my small photographic library with my students.
So, imagine my surprise—and pleasure—to discover what has become one of my favorite photo-resource books, Building a Photographic Library, published in 2001 by the Texas Photographic Society. Edited by D. Clarke Evans and Jean Caslin, this little gem of a guide is basically a book comprised of "lists" composed by 138 photographers, museum curators, collectors, photo editors and other "folks in the industry" responding to the editors' question: what are your 6 "favorite" photography books?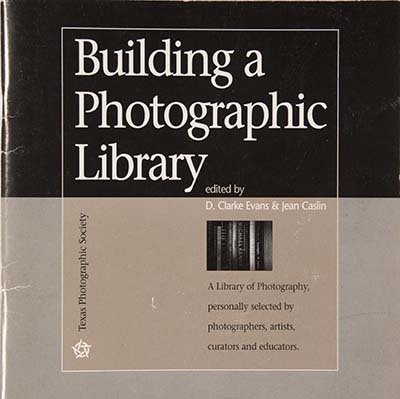 I thought it was a great concept at the time, as it provided me a benchmark for evaluating or validating my own selections compared with other like-minded photo people, many of whom I greatly respected. It was enlightening to see the selections of such folks as Sam Abell, David Bayles, Ruth Bernhard, Keith Carter, Emmett Gowin, Mark Klett, Weston Naef, Ted Orland, John Sexton, Anne Wilkes Tucker, Jerry Uelsmann and David Vestal, among many others. Many gave reasons for their selections and many couldn't contain their lists to just 6. In addition to seeing some of my favorite books selected by so many others (27 chose Robert Franks' The Americans, 17 chose John Szarkowski's Looking at Photographs, 13 chose Edward Weston's Daybooks, 9 chose Diane Arbus: An Aperture Monograph), I also discovered books by photographers and writers that I was not familiar with at the time, including what has become one of my all-time-favorite creative instruction manuals, Anne Lamott's Bird by Bird.
All in all, Building a Photographic Library was a 64-page powerhouse of ideas and inspirations, and I wonder if it's an idea that should be revisited? How many books have come out in the past 15+ years that deserve "favorite" consideration? Are the old "classics" still relevant in today's photo world? How important are photo books in general to today's young photographers?
Plenty of food for thought . . .
P.S. Since I wasn't asked my opinion at the time, I'll take this opportunity to list 6 of MY favorite photo books:
1. The Americans, by Robert Frank. Created in the midst of the "I Like Ike" era, it feels like it was bookended by the Lincoln and Kennedy funeral processions, with a hipster introduction by Jack Kerouac. Hard to beat that!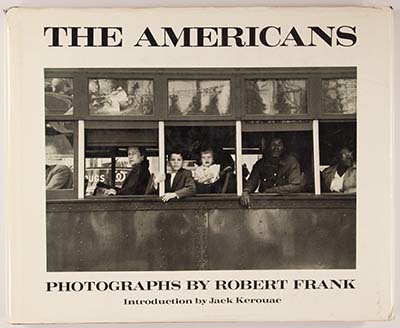 2. East 100th Street, by Bruce Davidson. What happens when a middle-class white guy goes into East Harlem in the 60s with a camera? The results were cathartic to me.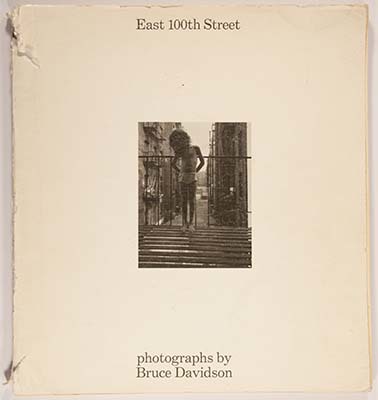 3. Diane Arbus: An Aperture Monograph. In addition to being one of the most admired (and copied) photographers of her generation, the introduction proved that she was also one of the most "quotable."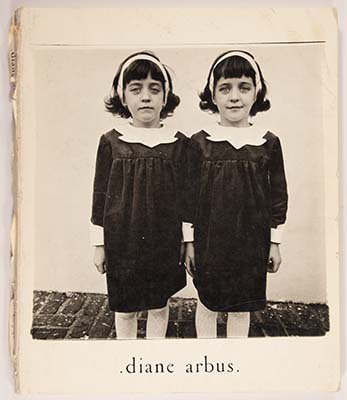 4. Self Portrait, by Lee Friedlander. The original "Mr. Selfie" who actually had something to say!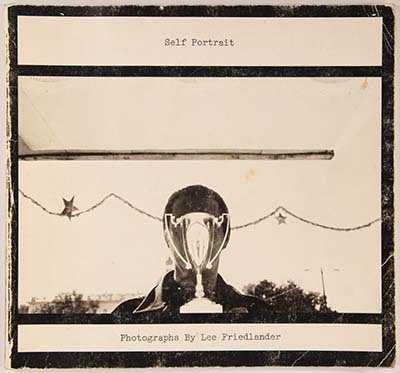 5. Light Readings, or any other books by A. D. Coleman. The first articulate photo critic I encountered that actually spoke my language. Whether I agreed with him or not, he wrote clearly, supported his arguments and wasn't afraid to speak his mind, or change it later on.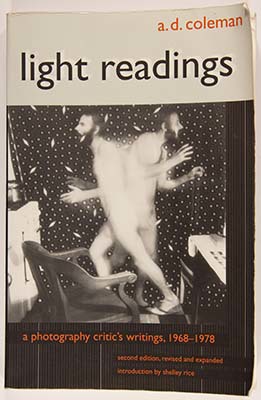 6. Occam's Razor, by Bill Jay. Another extremely clear thinker that made me think deeper about photography. I've read his Diane Arbus: A Personal Snapshot at least a dozen times and it still gives me goose bumps.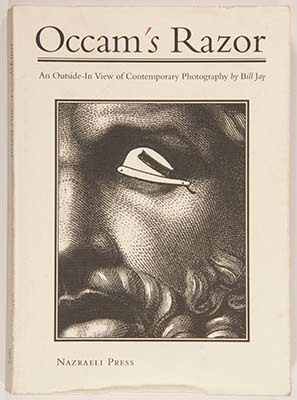 7. Ernie: A Photographer's Memoir, by Tony Mendoza. I know I'm getting greedy here, but I can't resist. This is my favorite book to share with pet-loving students with social anxieties to prove to them that you CAN create a compelling photo story without leaving the house.