Blog Author David Gremp
I recently—and unexpectedly—retired. Put out to pasture from the full-time work world. Until it happened, I hadn't really given it much thought. And one of the very first thoughts, or dilemmas, I faced was "What will I do with all this extra time?" In addition to getting my financial affairs in order (Social Security, Medicare, IRAs, 401k, AARP and other benefits and responsibilities of aging), I knew I needed to go through all of my images of over 40 years—get my proverbial sh*! together—before considering producing anything new.
I had binders and boxes of negatives. I needed to go through them roll-by-roll, sheet-by-sheet, select my favorites, scan them and put them into electronic folders. Since I always tended to work on a project-by-project basis, it was a fairly easy task because those negatives were always stored together, whether the project lasted a semester, a year or 20 years. I grouped them in project-titled folders, and for those images that didn't fit neatly into a project folder, I created groups according to time periods: family 70s, family 80s, Chicago 90s, etc. The most important thing to me was being able to locate them when I needed them.
When the opportunity arose for me to put together a small exhibit, I chose to focus on some of my earliest work from the mid-70s while I was still studying photography and living in a small town in rural southern Illinois. I had always been proud of a documentary class project that I did one semester photographing the local high school. I'd convinced my professor to write a letter for me attesting to the legitimacy of my student status and then presented it to the school principal, granting me access to the building before and after classroom hours. I was free to roam the hallways with my camera. Something I kind of doubt would be possible today.
Over the course of the semester I got to know the students a little bit, they got to know me and I wound up shooting about 15 rolls of 35mm film. I completed the project with a final portfolio of around 15 prints and that was that. I moved on to other smaller projects in the same town, including some visits to the local dance barn on Friday nights and some miscellaneous subjects such as neighbors, people at the beach and just general "around town" stuff.
With an exhibition in mind, I knew that I wouldn't be able to sustain an entire 26-print show of my High School project alone, so I had to consider including some of my Dance Barn images and my Around Town work. I had never really thought of those images together as one body of work. To add to the challenge, it was decided that all of the exhibition prints would be new darkroom prints. I had to choose my negatives carefully as the deadline and budget didn't allow for too much dilly-dallying. And since I hadn't printed any of these negatives in 40 years, I wasn't sure what kind of technical issues I might encounter. (See postscript)
As with any other project, I started with a selection of my favorite images, beginning with the High School project, and began printing them one-by-one. I then moved on to the Dance Barn negatives and finally the Around Town work. By the time I had gone through each group, I had a total of 30 prints, which was 5 or 6 more than the gallery could hold.
It was time for that next, all-important step: share the prints with my curator at the gallery and come to terms with a final selection. There were a few images that she expected to see, but I hadn't printed. And there were images that I liked, and did print, that came across as redundant in such a small, limited space. Being adults that we are, we managed to reach a compromise, eliminating some of the redundancies and adding some that I had neglected to print. Back to the darkroom!
In the end it all came together as a composite or collective portrait of a small, rural Midwest town, circa 1975. Kind of a bi-centennial cross between "Our Town" and "Winesburg, Ohio." We ended up deciding to make a small catalog of the exhibit titled "Downstate."
One of the benefits of today's digital age is the ease and economy of producing a small photo book and printing it rather inexpensively on an on-demand basis. Having a catalog greatly extends the life of an exhibit and provides another chance to present the images in a certain sequence, interesting pairings, juxtapositions, etc. Another advantage to the catalog is that with some introductory text, preferably written by someone other than the photographer, the work within can be discussed, dissected and even re-contextualized.
I was fortunate to team up with Lisa Janes, the owner/curator of Alibi Fine Art Gallery in Chicago where my "Downstate" work was exhibited. We worked together on the catalog layout and she wrote a thoughtful introduction, which I think gave my work an added depth and purpose. Here is an excerpt:
"Gremp carried his own mythologies about small towns, derived mostly from reading the stories of Shirley Jackson, Carson McCullers, Flannery O'Conner and Ring Lardner. Charmed by the seeming simplicity of rural life, he also encountered some of the darker elements common to those fictional tales. Among them, the wariness of strangers fueled by the secrets, gossip and deceit that linger in the collective memory of intimate communities; a palpable, if often unacknowledged surface tension that reinforces and sustains the social fabric of small-town life."
It's been extremely rewarding having "all this extra time" in my retired years to be able to look back and reassess my past involvement with photography and, by merging old and new technologies and having a partner in crime, move it forward and give it another life.
And then there's becoming a grandfather . . . but that's a different story.
High School: Couple at Locker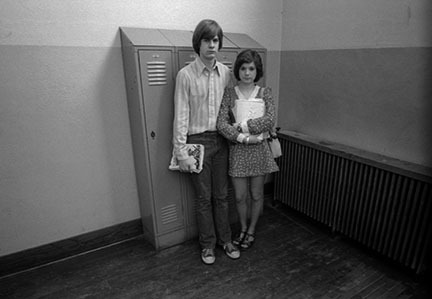 High School: Couple with Chevelle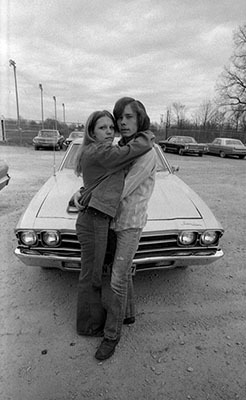 High School: Three Cheerleaders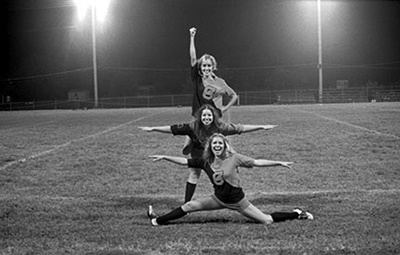 Dance Barn: Couple Dancing with Bra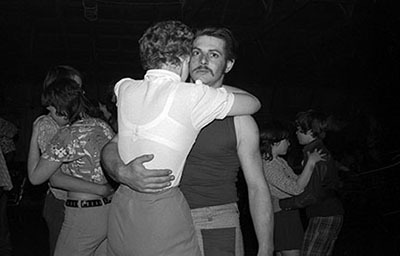 Dance Barn: Two Women Dancing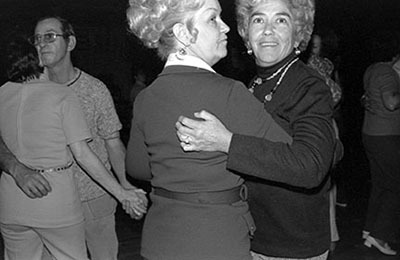 Dance Barn: Two Cool Cats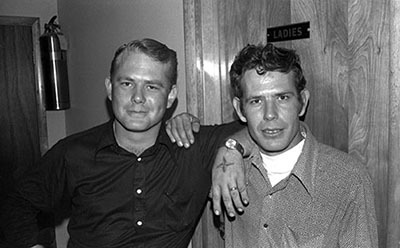 Around Town: Two Girls Sunbathing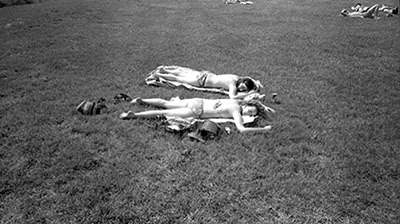 Around Town: Neighbors Vincent and Mary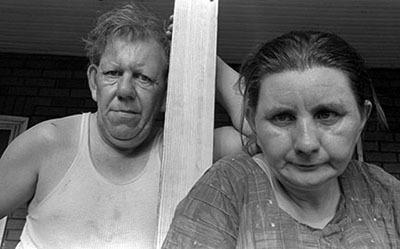 Around Town: Deer Slayer and Deer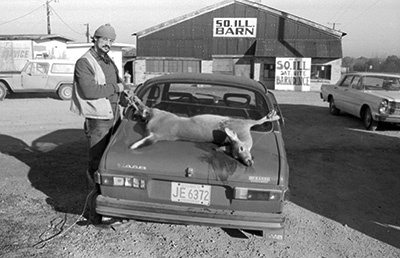 Postscript

Spotting Prints!
I had forgotten what a tedious task spot toning can be (that is, removing tiny dust spots and annoying lint hairs from darkroom prints). For one thing, you can't buy Spotone #3 anymore. Secondly, my 67-year-old eyes don't work like they used to. So I wound up—gladly!—paying a very talented (and busy!) retoucher to spot my exhibition prints. Worth every penny!