Members' Exhibitions & Events
Searching for an interesting photography show in your area? Read our up-to-date listing of exhibitions and photo-related events across the country.


Please visit Our Programming webpage to learn more about upcoming TPS sponsored exhibitions and events.
Kay Kenny [South Orange, NJ] has a solo exhibition at Stephen Crohn Art Gallery in Saugerties, NY, on display through October 31, 2017. Kay also has work (image below) in Camera's Vision: Archaeology | Architecture | Landscape on display at the Fine Arts Gallery, Saint Peter's University in Jersey City, NJ, through October 20, 2017.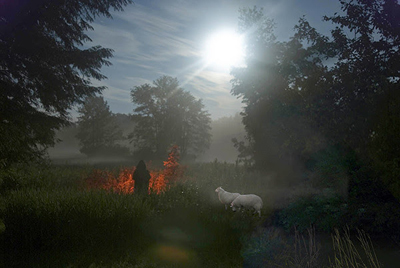 Milagros el Revelar: A Retrospective, an exhibition of photographs by Tammy Cromer [Dallas, TX], is on view at Tammy Cromer Gallery in Dallas, TX, through October 21, 2017.

Kat Moser [Snowmass, CO] will exhibit work (image below) at the 10x10 Name Unseen Exhibition at The Art Base in Basalt, CO, closing August 19, 2017; What's Your Color? at Aspen Chapel Gallery in Aspen, CO, through October 15, 2017; and Other Worlds at SE Center for Photography in Greenville, SC, through October 28, 2017.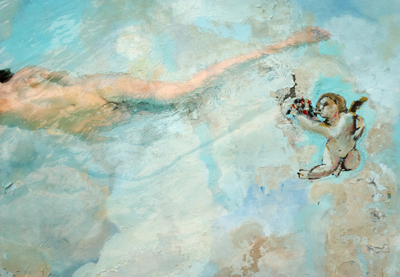 Five woven platinum prints by Terri St.Arnauld & Frank Yezer [Austin, TX] will be on display in the Creative Arts Society's juried exhibition at Link & Pin Art Space in Austin, TX, October 4 through October 29, 2017. Also, Terri and Frank will have 10 images on view in Implications I at A Smith Gallery in Johnson City, TX, through November 5, 2017, with a reception October 28 from 4-8:00pm and brief talk at 5:00pm.
Pamela Steege [Weatherford, TX] will have a solo exhibition at the Dora Lee Langdon Cultural Center in Granbury, TX. The show hangs September 30 through October 25, 2017. Also, Pamela's image Grit and Grace was selected for the juried publication, Lenswork: Seeing in Sixes.

Kathleen B. Donovan's [Dallas, TX] image, Evening of Reflection, was chosen by Ellen Denuto as Juror's Selection for Wandering Curves 2017 sponsored by the New York Center for Photographic Art, which is currently on view at the Jadite Gallery in Manhattan, NY.
Beyond the Visible Landscape with work by Guy Giersch [McKinney, TX] opened with an artist talk on October 14, 2017, at The Martin Place in McKinney, TX, and will hang through October 31, 2017.
The Lost Pines Art Conference, Art a la Carte, will take place November 3-4, 2017, in Bastrop, TX. This event is open to the public, with programming for all ages.
Juror Cindy Lisica has chosen Service (below), one of Narinder Sall's [Tomball, TX] images from The Golden Temple in India, for the Visual Arts Alliance 35th Juried Membership Exhibition. The opening reception will take place at Spring Street Studios in Houston, TX, November 8, 2017, from 6-8:00pm.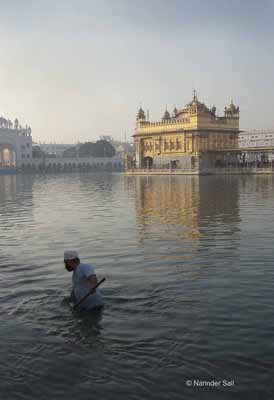 The 2017 International Juried Exhibition will feature work by Molly McCall [Carmel Valley, CA], which opens at the Center for Photographic Art in Carmel, CA, on November 4, 2017, with a reception from 5-7:00pm. Additionally, Molly has work in the 13th Annual Alternative Processes Competition at Soho Photo Gallery in New York, NY, through November 4, 2017, and in the 2nd Annual Alternative Process Photography Competition at The Image Flow in Mill Valley, CA, through November 22, 2017.
The images F Train Reverie and Staten Island Ferry by Anne Duncan [Austin, TX] were selected for the Learning Curve 10 exhibition at the Houston Center for Photography in Houston, TX, on display September 8 through October 22, 2017. Also, her image Red and Blue Lupine #1 will be part of the Small Works exhibition at the The Center for Fine Art Photography in Fort Collins, CO, from November 17, 2017, to January 6, 2018.

Sam Wang [Clemson, SC] will exhibit with Sandy King and Jainming Zhong in Connections at Gold Street Studios in Victoria, New Zealand from September 20 through November 19, 2017.

Happy, Texas by Steve Knight [Baytown, TX] has been selected for 2 exhibitions. Juror Garth Johnson selected it for the multi-discipline A Sense of Place 2017 at the Gertrude Herbert Institute of Art in Augusta, GA, from September 8 through October 13, 2017. This photo was also chosen by Molly Roberts for Photo '17 National Photography Competition at Multiple Exposures Gallery in Alexandria, VA, which will be on display October 17 through November 26, 2017.

KC Hulsman's [Hurst, TX] image Texas Longhorn - II received Honorable Mention in the recent 2017 IAA National Animal Art Juried Exhibition and will be added to the IAA Traveling Animal Art Exhibit, which runs October 7 through November 26, 2017, at the Irving Arts Center in Irving, TX. Her work will also appear in the 2017 IAA Photography Exhibition, juried by Mark Thompson, hanging October 29 through December 1, 2017, at the Jaycee Parks Center for the Arts in Irving, TX. An awards reception will be held November 5, 2017, from 2-4:00pm.

The 13th Annual People's Gallery Juried Exhibition opened at Austin City Hall in Austin, TX, in February 2017, including work by Thomas Athey [Austin, TX] among nearly 100 artists. The show will remain on display throughout 2017. Thomas' work will also be on view at the Dougherty Arts Center in Austin, TX, from October 28, 2017, through January, 6, 2018, with a reception October 28 from 1-3:00pm. The show titled, A Natural Selection, will feature 25 of his new collages.
Stephen Evans [Dallas, TX] will have a photograph in the Irene Rosenzweig 2017 Juried Biennial Exhibition at the Arts & Science Center for Southeast Arkansas in Pine Bluff, AR, from September 21, 2017, through January, 6, 2018.

Wendi Schneider [Denver, CO] will have her first solo exhibit of gilded vellum prints from the States of Grace series (image below) at Galeria Photo/Graphic in San Miguel de Allende, Mexico, opening January 13, 2018.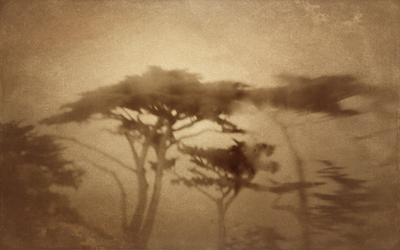 D. Clarke Evans's [San Antonio, TX] exhibition, Before They're Gone: Portraits & Stories of World War II Veterans, is on display at the National Museum of the Pacific War in Fredericksburg, TX, through January 14, 2018. A reception and artist talk was held on October 6, 2017.