Composed
TPS and PhotoPlace Gallery are thrilled to announce that Juror Sam Abell has selected 75 images by 60 artists for Composed, a new co-sponsored competition. A complete list of the exhibiting artists is below, with award winners noted in bold. Congratulations to all! Read more about Composed at PhotoPlace Gallery here.
GALLERY ARTISTS: Geoffrey Agrons | Roger Archibald | Brenda Bancel | David Bartlett | Wes Bell | Liza Hennessey Botkin | Abbey Bratcher | Jo Ann Chaus | Polo D | Paula Rae Gibson | Leonard Hellerman | Robert Herman | Sheryl Hess | Jill Jordan | Ed Kenney | Nancy Lehrer | Kurt Lengfield | Marcia Mahoney | Robert Moore | George Nobechi | Melissa O'Shaughnessy | Manda Quevedo | Janet Flato Sanders | Larry Simon | Eleonore Simon | Eric Smith | Sue Palmer Stone | Ira Talanchuk | Merethe Wessel-Berg | Mike Yoder | Jocelyn Young

ONLINE ARTISTS: Geoffrey Agrons | Danny Allegretti | Bob Avakian | Brenda Bancel | David Bernstein | Michel Boyer | Laurence Chellali | Anne Connor | Will Dane Dodge | Patricia Galagan | Marcia L. Getto | Orestes Gonzalez | Robert Herman | Robert Hewgley | Mark Hobson | Pamela Joye | Brian Kosoff | The Land Sisters | Nancy Lehrer | Kurt Lengfield | John MacKenzie | Brian Magnuson | Liz McCue | Yvette Meltzer | Libby Nelson | George Nobechi | James F. Richardson | Matt Roberts | Heather Robinson | Katie Rosebraugh | Michael Rubin | Charlotte Savidge | Larry Simon | Kyra Soard | Pamela Steege | Oliver Stegmann

Composed opened with a reception February 4, 2017, from 4:30-7:00pm at PhotoPlace Gallery in Middlebury, Vermont, with Juror Sam Abell and TPS Executive Director Amy Holmes George.
. . . . . . . . . . . . . . . . . . . . . . . . . . . . . . . . . . . . . . . . . . . . . . . . . . . . . . . . . . . . . . . . . . . . . . . .

We are excited to take our next show on the road. This new themed call, Composed, will be juried by Sam Abell, photographer, teacher, author and artist based in Charlottesville, Virginia. Composed will be proudly co-hosted with PhotoPlace Gallery in Middlebury, Vermont, where the exhibition will hang in early 2017. Composed is now closed for entry.



Calendar of Events
10-10-16 Call for entry announced
12-12-16 Deadline for entry (at midnight PST)
01-05-17 Exhibiting artists announced and emails sent to all entrants
01-20-17 Work due in Middlebury, Vermont
02-01-17 Show opens at PhotoPlace Gallery in Middlebury, Vermont
02-04-17 Opening reception with Juror Sam Abell from 4:30-7:00pm
03-03-17 Show closes
Awards
First Place = $500
Second Place = $300
Third Place = $200
Up to 5 Honorable Mentions may be awarded

Entry Fee
The non-refundable submission fee is $30 for up to 5 digital images, and $7 for each additional image. There is no limit to the number of images you may enter.
Entry Process
Guidelines for submission and file preparation are outlined on the PhotoPlace Gallery website here. You must submit your entry and make payment online through PhotoPlace Gallery using the button "Submit Images Here". Accepted work may be shipped as loose prints, matted prints or framed prints. PhotoPlace Gallery will mat and/or frame your work for free (for the duration of the show). They can also print your image for only $35.
Eligibility
Composed is open to artists of all levels internationally. All photographic based work is encouraged including digital, silver and alternative processes. You do not need to be a member of Texas Photographic Society to enter this competition. Works exhibited in a TPS show or PhotoPlace show during 2015-2016 are not eligible for re-submission to this call. Current members of the TPS Board of Directors are permitted to enter but are not eligible for awards.
About the Juror
Sam Abell, photographer, teacher, author and artist based in Charlottesville, Virginia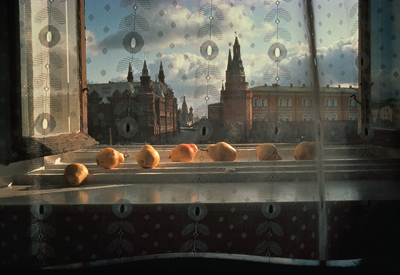 Sam Abell is a teacher, artist and photographer who learned photography from his father, also a teacher, at their home in Sylvania, Ohio. After graduating from the University of Kentucky, Sam worked for National Geographic as a contract and staff photographer for 33 years. In 1990, his work was the subject of a one-person exhibition and monograph titled Stay This Moment at the International Center of Photography in New York City, New York. Since then he has published 3 collections of his work: Seeing Gardens; Sam Abell: The Photographic Life; and The Life of a Photograph. In addition, Sam maintains an international career as a writer, teacher and lecturer on photography. Read more about Abell at www.samabell.com.
Juror's Statement
"Compose the picture, Sammy. And wait."

Those are the most influential words ever spoken to me about photography. I heard them when I was 14. They were spoken by my father on one of our photo outings together.
But what did he mean? He meant for me to establish the basic composition before clicking the shutter. To him that meant I should look for strong structure, good light and the potential for life-giving action. Only when all of the elements of a composition were in place would I be ready to...wait.
Wait for what? That afternoon I waited for the steaming train to depart the station as my dad buttoned his overcoat against the cold.
I entered a print of the scene in the 1960 National High School Photo Contest. It won the smallest prize—Honorable Mention, Junior Division.
But that small prize changed my life. It put me on a path that led to a thirty-year career photographing for National Geographic. During those decades I rigorously practiced the 'compose and wait' approach to making photographs. I had to; there was no other way to make successful images.
As juror for this exhibit, what am I looking for in an image? In a word: everything. I want to see well designed photographs that have depth, strong structure, good light—and within them a spark of life.
What don't I want to see? Images that are contrived, forced, synthetic or derivative. Images where software or hardware have made the picture.
Fine photographs—the kind you want to live with—seem inevitable. There may be disciplined work behind them (strong seeing, patience) but that effort is invisible.
The aspiration of this exhibit is high: To place on the walls of the gallery a collection of images that cannot be easily memorized. A set of photographs so strong and subtle in their compositions that they irresistibly stay in the mind of the viewer.
I invite you to make such photographs and to submit them for consideration in the upcoming exhibit with the compelling title 'Composed'.
Reproduction
TPS and PhotoPlace Gallery retain the right to display, project and reproduce work accepted for this exhibition for publicity and promotional purposes only. Individual photographers still retain copyright to his/her own individual images. Also, an exhibition catalog will be created to showcase the selected works.
Questions?
If you have questions, after reading all the guidelines, please contact us at shows@texasphoto.org.